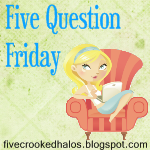 Rules for 5QF: Copy and paste the following questions to your blog post, answer them, and Friday morning... LINK UP!

Oh, and remember (pay close attention...this is the important one)...HAVE FUN!
1. How long did it take for you to find your wedding dress? (Wedding dress pics anyone?)
When I was getting married, my grandmother owned a dress shop. I don't really remember how long it took (MY GOD, I've been married 38+ years). I do remember gettting to go over the the Dallas Market - and go thru all the retailers when I was looking. Ultimately tho, as was with most things I wore...my grandmother had the final decision. Not a problem, she had a great taste.
This is my myself and my mom
2.
Someone in your general vicinity releases a NASTY smelling fart. Do you say anything or blow it off?
Hmmmm..tough one. Kinda depends on "who" or is it "whom" did it. One of my kids...OH YEAH, my hubby, double OH YEAH..co-worker..maybe...a stranger - NO - but I can give one of those "mother" looks...the kind where you know your in trouble and you have been caught!
3. W
hat is the scariest thing that happened to you or scared you recently?
Two nights ago, my husband came in from outside. Terrified look on his face....out of breath....WTH?..he had been out on the patio, stoking up a fire for some grilling and smelled something "funny"(and no it wasn't a fart)...when he investigated, the pool pump was on fire. I'm not talking smokin'..I'm talking FLAMES!!! He was able to put it out before too much damage. It was extremely odd that both of us were home, during the week and so early in the afternoon....otherwise...who knows what would have happen. Thank you Jesus!!
4.
Favorite brand and flavor of ice cream.
I LOVE, LOVE, LOVE ice cream. Especially anything that has chocolate on it, in it, chips, chunks, syrup, sprinkles, shavings,......MMMMMMMMMMMMMMMMM - can't beat Blue Bell...now can you?
5. Are you able to sleep well in hotels?
If it is a really good hotel, like a Marriott, Westin, Omni...you know the kinds with really good soft, plush mattressess and comforters.....can you say HIGH DOLLAR....otherwise, not so much.
I always pull the bedspread off and throw it in the corner. Don't even want to think about what has taken place on there.....even high $$$$ ones! I bring my own pillow, my sleep sound machine and I take drugs..sure I can sleep in hotels...with a little help from my friends!!