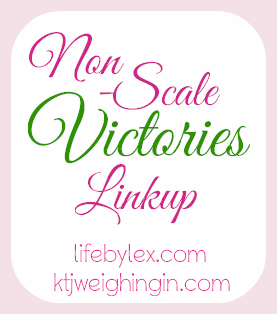 Linking up today with my new BFF's! When you are on a "journey" to lose weight, you can NEVER, EVER have enough support. I found Katie and Lex and already their blogs has helped me! As I have said before, I don't consider myself on a "diet"...this is just the way life has to be. I want and need to be healthy and I can't do that if I am over weight.
My non scale victories this week
1.
My Wheatie (hubby) He has always supported me in my changing "of the food" - but this past week he has joined me in changing his eating ways and exercising more. Of course, as always - men lose faster and he has already lost 4 lbs. I LOVE THAT MAN !!!
2.
When you are "heavy","fat", "a plus size", "big girl"...blah blah blah - you can't normally shop just anywhere. This past week I went to Old Navy and I bought shirts, dresses and pants (and not in the PLUS SIZE section either !!!) that is no big deal for most - but for me it is!!
3.
I challlenged myself to get in 10,000 steps a day - and for the last 3 weeks I have done just that.(some days way more) Now, some of my co-workers raise an eyebrow when they see me doing "laps" around my desk...but the point to it is that I am moving and that is burning calories. When I get home, if I haven't reached my goal, then I do laps around my dining room, my kitchen, my bedroom, and weather permitting, I take a walk with my furbabies or I ride my bike.
Thanks Katie and Lex for all the encourgement !