Welcome to Fun Friday Blog Hop !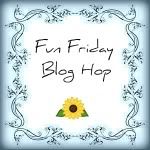 http://lifewithtwinsandadramaqueen/
Come join and meet some new bloggers, get some more followers. Just enjoy and have fun
1. You
MUST
follow
your hostess and co- host. If you already follow GFC you can always follow via Facebook, Twitter, Networkblogs. Make sure to leave us a comment and we WILL follow you back.
2. Feel Free to GRAB our button that is at the top and post it on your blog. We want to get the word out.
3. Post your URL and have fun!