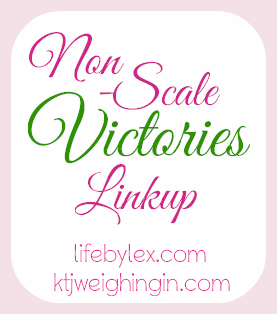 Linking up today !!
Sometimes waiting and waiting for the "scale" to move - frustration sets in. I have been doing this "journey" my whole life and I still find it hard to look at all the other triumphs in losing weight. Today I am linking up with Katie on the NSV.
I belong to an elite group of people at MY FITNESS PAL. Now all these peeps are on the same page....losing weight, eating good healthy meals, exercising and lending support to fellow members. This is by far the best site I have found. I think I spend more time here than on facebook ! WHAT!! - I know, right??
In getting dressed this week, I have discovered quiet a few pieces of clothing that I can no longer wear. They are just too big and look horrible on me. I make donations often to charity - especially to the charity whose profits go to the local women's shelter. This time, when I discovered I had clothes I no longer could wear, I contacted my group of ladies on MFP and asked if anyone could use them. I had a taker, and I was so excited. I don't personally know this person, but we have been friends and chatting and supporting each other for the last 6-7 months. So I know alot about her, I consider her a friend and I know she can use these clothes in her "stages" of losing weight. Today - I boxed them up and will be putting them in mail to her. A NSV for both of us !!
Tomorrow - I will be back on the scale for the infamous "weigh-in" - I think it is going to be a good week.