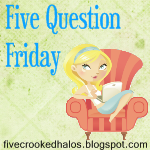 Rules for 5

QF

: Copy and paste the following questions to your blog post, answer them,

link up with fivecrookedhalos.blogspot.com
1. W

hat is the funniest thing you saw on Facebook/twitter this week?
Posted by one of my girlfriends on her page. Touche'
(sorry, little hard to read - but I think you can get the jest)
2.. What is your
favorite Olympic event?
I would have to say gymnastics. I like all the events - I prefer the winter games more.
3.
Do your kids to chores around the house? If so, what are they and how old are the children? Do they get paid for them?
My boys are grown, but definately YES. They were both doing their own laundry at 11yoa. Learning to cook and clean the house. Take care of the animals and help in any other way necessary. They were amazing kids. They did receive allowances when they met their responsibilties.
4. I
f you get bad service/food do you complain or keep quiet?
OH YEAH...most of time. It really depends. If it is something serious, always. If it is a minor detail - usually not. Sometimes you just have to decide if speaking out is worth it. Alot of times, tho I will write a letter of "concern" and let the corporate office know. I have received lots of "We are so sorry" gifts for that. It helps the companies too to know when their employees are not doing their job correctly.
5. If you could pick ONE frivolous item for your home, what would it be? (massive room sized closet? swimming pool? greenhouse? etc...)
HMMMMMM - I think a really, really big bathroom, Huge tub, very girly, TV, stero system, phone, lounge chair, airy and bright. Plants, flowers.
Attached would be a really, really big walk in, sit down, turn around closet - full of clothes, shoes, purses. A WOMAN CAVE......